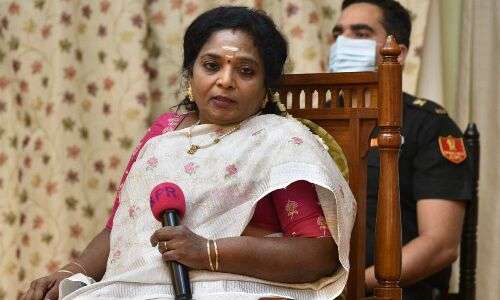 Governor Tamilisai Soundararajan takes sober short letter of departure from life of two women
Hyderabad: Governor Tamilisai Soundararajan has taken a sober short letter of the departure from life of two women after C-section surgeries failed in Malakpet infirmary.
She said that it was to be familiar or acquainted with a person or an object about the departure from life of two women. "As a doctor, gynaecologist, I am concerned about the death of women after the C-section. I wanted to visit the hospital. We need to improve the infrastructure at the government hospitals as the economically poorer sections' last hope is government hospitals," said the Governor.
She stressed on the extreme poverty to become bigger or greater medical facilities as per requisite of the people who inhabit a territory. "Four women had died after failed family planning surgeries in the past". She said the facilities were improving, but wanted more condition superior to an earlier one. "The State government should take steps in that direction".
Replying to a inquiry, the Governor said the government Bills were not pending; they were under her careful thought. "All aspects need to be considered in the Varsity Appointments Bill. The Bill should not face legal hurdles as similar Bills had faced legal problems in the past", she said. She also stated that teaching non-teaching posts should be filled in universities.