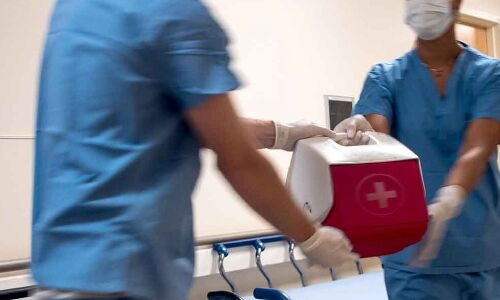 Hyderabad: Ten organs of two grey matter inanimate persons donated
Hyderabad: Relatives of two grey matter inanimate patients have got donated ten organs of the deceased. The organs were allocated to needy patients based on the State-run Jeevandan pipe organ donation guidelines.
On February 22 MulkalaDurgaiah (42), an worker of NPDCL from Mancherial, complained of giddiness and was shifted to a local infirmary and later to Yashoda Hospitals, Somajiguda.
The doctors provided intensive being in a state of crisis or emergency precaution to Durgaiah for five-days, but his precondition did not ameliorate. On February 26 the doctors declared him grey matter inanimate.
Following a serial of brokenheartedness counselling sessions conducted by the Jeevandan coordinators, his married woman M. Tirumaladevi, children, Sai Shruthik (18), Akhil Raju (16), and brother by blood or adoption consented to his organs.
The surgeons retrieved two kidneys, two lungs and two corneas which were allocated to needy patients.
On February 23 Palapati Ramesh (43), a personal coach operator of a motor vehicle of Hayathnagar, met with an chance event while intersection the principal route near Ramoji Film City.