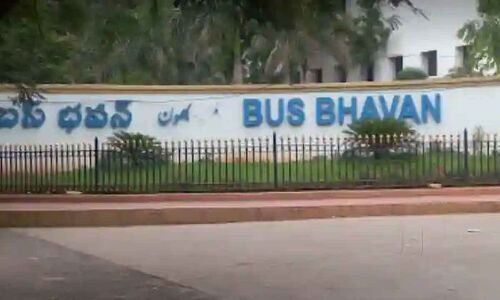 International Women's Day celebrated at Bus Bhavan
Hyderabad: International Women's Day was celebrated at Bus Bhavan on Wednesday. The women employees who showed excellent act of presenting a play or a piece in their duties were honoured by Telangana State Road Transport Corporation (TSRTC) and prizes were awarded to the employees who excelled in various competitions.
On this time of a particular event, TSRTC Chief Operating Officer Dr V Ravinder's spouse, Nirmala, attended the ceremonial occasion and reduction of amount or number the cake, and congratulated them on Women's Day.
She praised that it is a gratifying development that the universe of women is not small in range or scope to the abode and is reaching higher heights. Housewives have got an exam every solar day at abode, and it is commendable that the female employees of TSRTC give a performance their duties effectively while fulfilling their responsibilities as housewives.
Dr Ravinder said that five women have got been appointed as RMs in 11 regions of TSRTC. He said that many facilities are being provided for women passengers, and toilets and restrooms have got been arranged at the primary coach stands.
It is said that 40 percentage of the seats in the buses are reserved for women.
Women employees, including Indira, Pravinuta, Kalyani, Bhavani, Padmavati, Vidya, Pavani, Sunita, Namita, Sampathi, Annapurna, were honored on this time of a particular event.
Namitha, the typist of the basic structural and functional unit of all organisms department, who excelled in her duties and won competitions, was specially congratulated. ED (Operations) PV Munishekar, CPM Krishnakanth, CFM Vijayapushpa, and others participated in the programme.