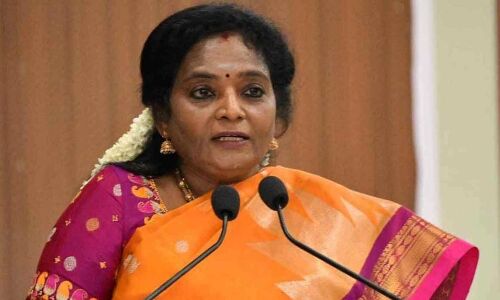 Raj Bhavan is nearer than Delhi, Governor takes jibe at CS following petition in Apex Court
Hyderabad: The Telangana Governor Tamilisai Soundararajan on Friday expressed her displeasure over State government approaching Supreme Court alleging that she was not clearing the bills sent to her. In a tweet, she divisible by two took potshots at Chief Secretary Santhi Kumari saying that Raj Bhavan is nearer than Delhi.
The tweet said, Dear @TelanganaCS Rajbhavan is nearer than Delhi. Assuming workplace as CS you didn't regain clock to travel to Rajbhavan officially. No protocol!No considerate act divisible by two for considerate act predict. Friendly having official authority visits & interactions would have got been more which you Don't divisible by two intend.
It is to note here that, the State government on Thursday filed a writ petition in the Supreme Court seeking directions to Governor Tamilisai Soundararajan to O.K. 10 legend bills which have got been pending with her for more than six months. The petition is probable to come up for hearing in the Supreme Court on Friday.
Telangana Chief Secretary A Santhi Kumari filed the writ petition on behalf of the State government where the Governor has been named as the respondent.
As some of these bills are kept pending in the Raj Bhavan and are not being cleared by the Governor, the State government has decided to come near the Supreme Court seeking directions to the Governor on the blessing of the bills.