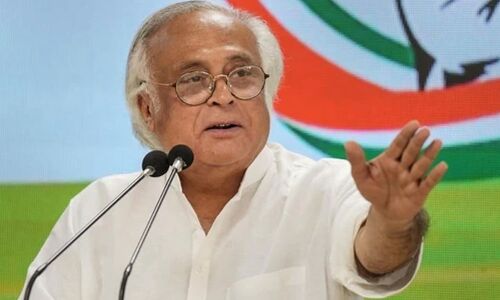 Jairam Ramesh asserts that the Opposition's demand for JPC is non-negotiable
Jairam Ramesh, a senior Congress leader, recently spoke about the ongoing logjam in Parliament. According to Ramesh, there is no middle ground to end the deadlock as the opposition's demand for a Joint Parliamentary Committee (JPC) probe into the Adani issue is non-negotiable. Additionally, the question of an apology over Rahul Gandhi's remarks in the UK does not arise. Ramesh stated that the government is rattled by the 16 opposition parties coming together to demand a JPC probe into the Adani issue and is resorting to a "3D orchestrated campaign — distort, defame and divert".
Ramesh also criticized BJP MP Nishikant Dubey's efforts to seek termination of Rahul Gandhi's membership of Lok Sabha over his remarks in the UK, saying all this was "intimidation" and part of efforts to distract from the real issues. The remarks by the Congress general secretary in-charge communications comes amid the logjam in Parliament over Gandhi's remarks during his recent trip to the UK, with both houses failing to transact any significant business on the first five days of the budget session's second half.
Home Minister Amit Shah said on Friday that the current logjam in Parliament can be resolved if the opposition comes forward for talks and that the government will go "two steps ahead" if the opposition takes "two steps forward". However, Ramesh believes that there is no middle path to break the current logjam in Parliament with the BJP sticking to its demand of Rahul Gandhi's apology and Congress seeking a JPC probe into the Adani issue.
Ramesh stated that the BJP is insisting on an apology to divert attention from the legitimate and reasonable demand for a JPC. He pointed out that the current prime minister (Narendra Modi) has repeatedly used forums to raise domestic political issues and criticize his political opponents in various parts of the world. Therefore, he believes that Rahul Gandhi should not be making any apology for highlighting what he perceives as the state of democracy in India today.