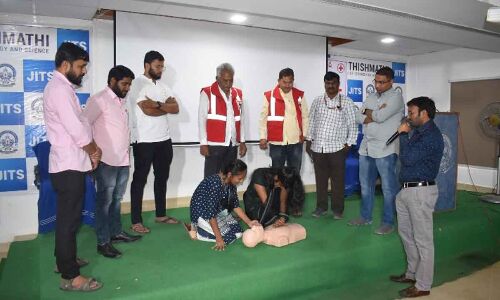 A CPR Awareness Program Conducted to Educate the Public on Life-Saving Techniques
An awareness programme on cardiopulmonary resuscitation (CPR) was held at Jyotishmati Engineering College in Karimnagar under the aegis of Indian Red Cross Society and Jyotishmati Institute of Technology and Science NSS (National Service Scheme) Cell on Saturday. The event was attended by Indian Red Cross Society, Karimnagar chapter chairman Keshav Reddy, secretary Radhakrishna Reddy, Dr Rajendra Prasad and Dr Sai Charan Garlu who informed the students about recent cardiac arrests and preventive measures.
Dr Rajendraprasad gave a power point presentation to make students aware that when a person's heart stops beating or the lungs are not functioning, the CPR emergency procedure needs to be performed immediately to restore those actions. A demo session was also conducted to show that CPR is an emergency life-saving procedure when the heart stops beating and that it could save people who have suffered a heart attack from a life-threatening situation.
College principal Dr K Srinivasa Rao stated that the CPR awareness programme was very useful to save the lives of others so that people do not panic when cardiac arrest occurs. Secretary of Indian Red Cross Society Radhakrishna Reddy urged students to donate blood and save the lives of others. NSS Coordinators Dr. Pranitha, Bhagya, Satish Chandra and representatives of Kia Hospital also participated in the programme.
Overall, the programme was aimed at educating students about the importance of CPR and how it can help save lives in emergency situations. The participants were provided with valuable information on how to perform CPR correctly and effectively. The event was a great success and helped raise awareness about this life-saving technique.