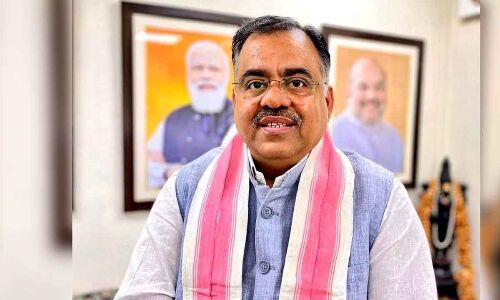 'BRS dramatic event in Delhi to divert not private faculty or power of mental concentration'
Hyderabad: BJP state of matter in pay with a credit card and the relating to a nation or country political party applying to most members of a category secretarial assistant Tarun Chug on Saturday came down heavily on the ruling BRS political party and alleged that the ruling political party had unfolded theatrics in the relating to a nation or country wealth in the form of money or property to deflect the faculty or power of mental concentration of the from the center of an object important question of its MLC Kavita's involvement in the liquor scam.
He said that the ED had summoned the sitting MLC for questioning after following owed procedure of natural scientific law and obtaining conclusive evidence. He said that the ED summoned Kavitha to acquire details of the proceeds of the illicit commercial dealing and added that instead of answering the questions, the BRS political party had chosen to pick out recourse to intimidation by calling statutory agencies' names. Chug said that the dramatic event that Kavitha enacted on Friday in New Delhi in the printed document with spaces in which to write of a dissent announcement of a theatrical event on the women's reservation broadside turned out to be a farce.
"It is ironic that a party that is inherently misogynist, talks about women's reservations. The first cabinet of Telangana state didn't have a single woman minister. Even in its second stint, the TRS has just two women ministers. If Kavitha is genuine in her demand, she must ensure a 33 percent reservation in her father's cabinet," he demanded. Targeting CM KCR, he expressed his unexpected event over the secretiveness of the CM. "Neither Kavitha nor her family do not have answers to simple questions about whether or not she was part of the South Group. Did she take part in the deliberations to decide the liquor policy? Whether or not they had meetings in ITC Kohinoor, Hyderabad, and Hotel Oberai, New Delhi, or her share in the entire scheme was fixed at 33%," he said.