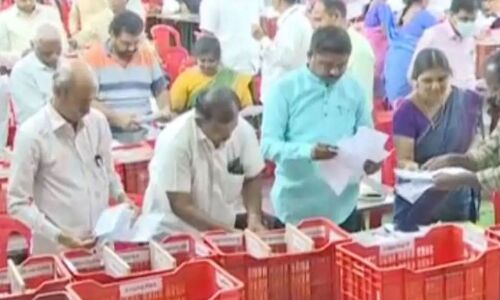 Counting of Votes Commences for MLC Election in Hyderabad-Mahbubnagar-Ranga Reddy-RR Teacher's Constituency
The counting process for the Mahabubnagar-Rangareddy-Hyderabad Teacher's council seat has begun and is expected to be completed by evening. The counting is taking place at the Saroornagar indoor stadium, where 28 tables have been arranged for counting. Each table will have one supervisor and observer, and the counting staff are arranging each bundle with 100 votes. However, the counting process was delayed by 25 minutes from its scheduled start time of 8 am.
The election held on March 13 had 21 candidates in the fray, and a total of 29,720 teachers were registered voters. The results are expected to come by evening. Due to the large number of candidates, the result may take more time. To maintain law and order, police have imposed section 144 in the premises.
The first preferential votes will be taken into consideration during the counting process. If any candidate gets more than 50% first preferential votes, they would be declared the winner. If no candidate gets over 50% votes, the second preferential votes would be counted.
The ruling BRS party did not contest the election and supported G Chenna Keshav Reddy, who is also backed by the Progressive Recognised Teachers Union-TS (PRTU-TS). The BJP has declared support to A Venkata Narayan Reddy, while the Congress has extended support to Gali Harshavardhan Reddy. Janardhan Reddy, who won the teacher's constituency in 2017, is retiring and is contesting as a rebel candidate from PRTUTS as Independent. Manik Reddy is also in the fray as an independent with the support of United Teachers' Federation.