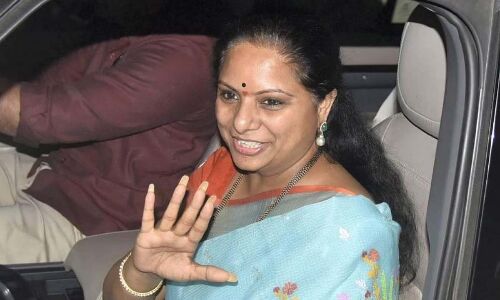 Kavitha named as suspect in Delhi Liquor scam case by ED and issued notices.
The Enforcement Directorate has named Kalvakuntla Kavitha as a suspect in the Delhi Liquor scam case, after serving her with fresh notices. Previously, Kavitha had been called as a witness in the case. The ED officials also produced Ramachandra Pillai in the Rouse Avenue court in connection with the same case. The court extended Pillai's custody for three days, as the ED requested he be interrogated along with Kavitha. The ED asked for an extension of Pillai's custody as Kavitha did not attend the hearing on Thursday. The court granted the request, after the ED informed them that Kavitha is now a suspect in the liquor scam case.
Kavitha, who is an MLC, was supposed to appear before the ED on Thursday but informed them through her lawyer that she would not be able to attend the hearing. She stated that her petition to stay the ED investigation is pending in the Supreme Court and wrote a 6-page letter to the ED.