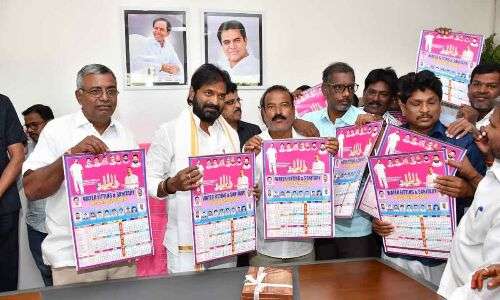 Minister Srinivas Goud launches schedule
Mahbubnagar: Excise Minister Srinivas Goud launched the New Year calander raised by the participants of Water Fitting as well as Sanitary Association of Mahbubnagar at his camp workplace in the area on Friday.
While talking on the celebration, the Excise Minister claimed that the solutions of water suitable as well as hygienic employees are considerably valued. He claimed that the State government is doing all that is required for the well-being as well as development of all areas of individuals in theState Adding additionally, the Minister claimed he is constantly there for participants of the organization. Any aid they require, he is constantly there offered for them. Later he praised the participants of the Association for drawing out the New Year schedule.
Muda Chairman Ganji Venkanna Mudiraj, Association president Satyam, basic assistant Muptakar Khan, joint assistant Harif Khan, vice head of states Mulana, Ibrahim, Shekhar, Syed Tajuddin, Mohan Rao, Venkatram Reddy as well as others joined this program.