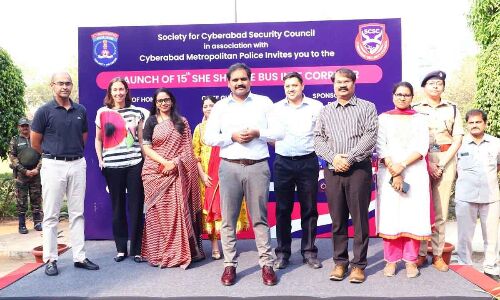 SCSC launches 15th SHE Shuttle autobus with sustenance from Arcesium
Rangareddy: Cyberabad Police commissioner Stephen Raveendra has flagged off the 15th SHE Shuttle from the premises of Cyberabad Police Commissionerate along with SCSC (Society for Cyberabad security administrative body) Secretary General Krishna Yedula, COO of Arcesium Anneloes Hesen, Managing Director & Country Head Ranvijay Lamba and Director HR Sujitha Ravoori on Wednesday. This autobus is supported by Arcesium from their CSR funds for a interval taken to complete one cycle of 3 years. This autobus runs from G Narayanamma Institute of Technology and Science (GNITS) to Raidurgmetro post, covering T-Hub, Knowledge City, Raheja Mind Space, Divyasree, and not the same significant IT parks and companies enroute. This is the 15th She Shuttle launched by SCSC for the performance to raise money for a charitable cause of women employees.
Speaking on the time of a particular event, Krishna Yedula said, "What we have started in 2015 with two SHE Shuttles with the support of the Telangana government, today we are able to scale up this initiative, with today's launch to 15 SHE Shuttles. We are happy that Arcesium has come forward to support this unique initiative, meant for safe travel to women, by providing last mile connectivity, and SCSC's SHE Shuttle continues to be a unique initiative, anywhere in the country.
MD Of Arcesium Ranvijay Lamba said,"We are that we are supporting the SHE Shuttle first step of SCSC, which is a gratis for women shuttle divine service, and I am sure it would performance to raise money for a charitable cause many women travelling towards Raidurg Metro post and surrounding organizations. This is one of many initiatives of Arcesium for the women, on International Women's twenty-four hours."