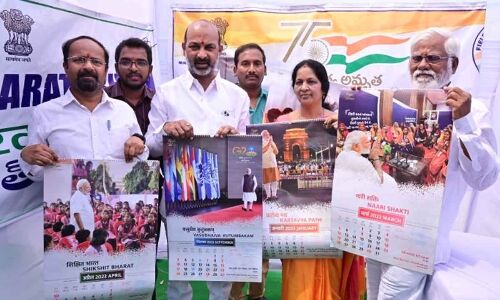 Yuva Utsav gets underway in Karimnagar
KARIMNAGAR: BJP State chief executive of a republic Bandi Sanjay Kumar formally launched the Yuva Utsav organised at Jyothishmathi Institute of Technology and Sciences (JITS) in Karimnagar on Saturday. The Utsav was organised by the Nehru Yuva Kendra Sangathan(NYKS) under the aegis of Ministry for Youth Affairs and Sports, in formal organization of people with NSS single undivided whole of JITS.
Speaking on this time of a particular event, he said that the Central government as component of the Prime Minister Narendra Modi's 'Panch Pran of Amrit Kaal' organised programmes especially for the time of life between childhood and maturity. He expressed happiness that the Karimnagar is the initial among 13 districts in the country to orchestrate the programme. He said that our Prime Minister Modi is working to furnish like opportunities to all Indians. Even though India has many dialects from Kashmiri to Kanyakumari, all are Indians.
He said that wholeness is very for all the of the nation. He said that India is getting inspired from the vivid mental image of Sardar Patel. Envisioning India to a developed nation when it achieves 100 years of its Independence in 2047, he called every member of a state to pattern the PM's 'Panch Pranas' (five pledges) are edifice a developed India, condition of being free from every construct of slavery, being feeling self-respect of our heritage, wholeness and and most importantly work that you are obliged to perform, for the wholeness of the country. He advised time of life between childhood and maturity to group of things of the same kind that belong together a successful attempt at scoring and oeuvre not yielding to pressure for it so that they could achieve the mark and added that today's time of life between childhood and maturity are the leaders of tomorrow.